No Doesn't Always Mean No in Lending
– Lethbridge Mortgage Blog
Last week, new clients of mine took possession of an awesome new home for their family. Despite being sound in all aspects financially, these guys had been told "No" on a mortgage by several banks and brokers alike. The main factor was that one of them became self-employed just over a year ago. Most bank policy these days specifies that unless you have 2 full years history of self-employment, they can't consider the self-employed income.
My clients were told by a friend to give it one more shot. "Call Shaun just to be 100% sure before you give up!".
When they called initially, they were reluctant – confused and almost exhausted. How, despite doing so many things to prepare for this next step (including selling their previous home and moving in with family to save a strong downpayment), was it that they weren't considered worthy of a mortgage? Becoming self-employed improved their financial situation immensely. They now earned more and had less overhead expenses because of the income tax benefits afforded to self-employed!
This story isn't meant to pump my tires. It's meant to demonstrate how mortgages and all lending really is entirely subjective. Some deals might not meet the black and white wording of lender policy manuals. That doesn't make them bad deals – it means the broker/lender might have to position the file differently or request different info that helps to support the area of concern. As a Lethbridge mortgage broker, I work on mortgages EVERY SINGLE DAY. For that reason I know how best to look & position at all types of mortgage files, not just the black & white salaried employment deals.*
This is exactly what I did with this particular file. I positioned the strengths, explained the merit of the clients. I also chose a lender partner that I knew would work to welcome the clients as strong future customers on both the mortgage as well as the personal & business banking side.
Unfortunately hearing "No" on a loan application can be a huge deterrent and cause many people to give up entirely. I've seen people go out and spend the downpayment money they had saved because "banks clearly don't think we are worth lending to!".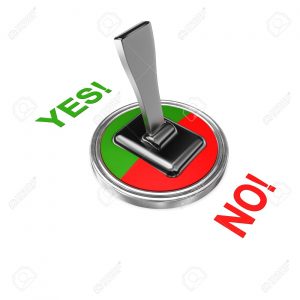 Sometimes in lending, a no does actually mean no – for the time being at least. When you work with an experienced Lethbridge mortgage professional, however, the "No" doesn't have to mean permanently. It's an opportunity to realign some priorities and try again (sometimes in a very short period) with the added expertise of years of making deals work.
My clients took possession of their new home yesterday despite hearing "No" over and over. All these "No's" eventually led them to me. I'm very grateful for the opportunity to be the one to give them the "Yes" they worked so hard for.
Please contact me anytime for unbiased mortgage advice. We are located in Lethbridge but can provide Canada-wide mortgage service!